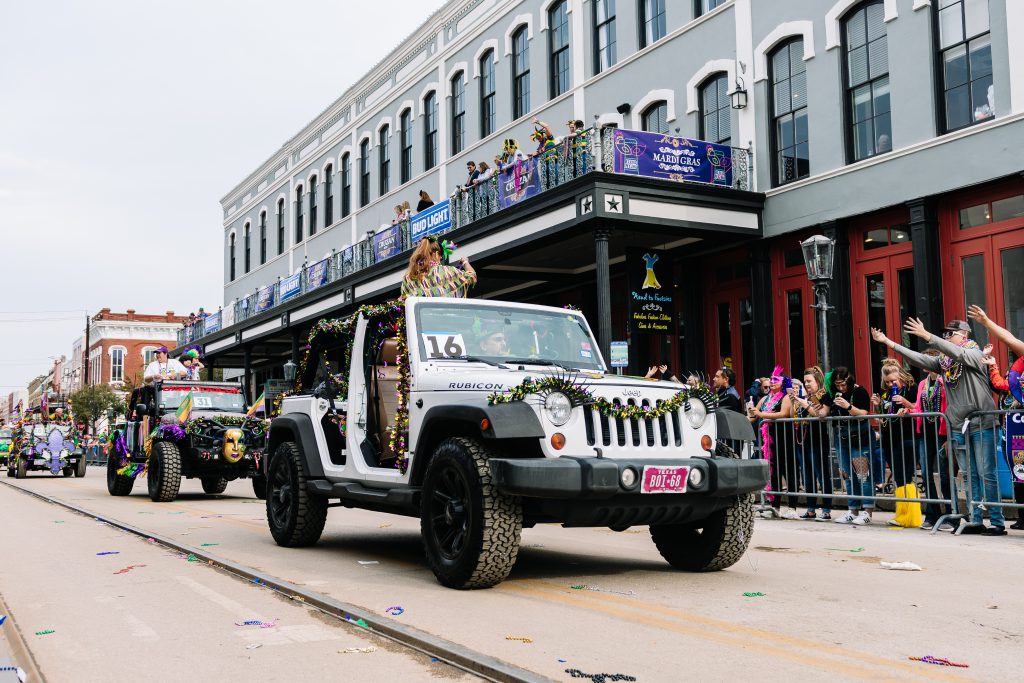 Parade Details
!!!NEW THIS YEAR!!! A parade packet will be mailed to the main contact person on the registration form prior to the event containing wristbands for selected number of passengers that will allow entrance into the Downtown Entertainment District for Saturday, February 19, 2022 (MAXIMUM OF 4 WRISTBANDS PER JEEP).
The most decorated Jeep will receive 4 balcony tickets for Saturday, February 19th. Jeeps must return to the staging area to find out which cart won the most decorated contest. If the winning Jeep does not return to the staging area after the parade, they will forfeit the prize and the next best decorated Jeep will receive the balcony party tickets.
All passengers must be properly seated. No passing of Jeeps will be allowed.
As the parade passes the corner of 21st and Strand, each entry will be judged based on the most decorated. The winning Jeep will be announced at the pier following the parade.
No trailers or floats allowed
No glass, coolers, or weapons will be allowed
ALL entries MUST be decorated
Any signage displayed on Jeep must be approved by Yaga's Entertainment and may not conflict with official Mardi Gras! Galveston sponsors
Check-in with Parade Coordinators one hour prior to scheduled parade start time, north of Wharf Road (Behind Willie G's) between 20th and 21st St.  The parade will begin at 3 pm. Be ready to roll at 3pm. 
Judging numbers will be included in the mailed parade packet.
The parade will enter the district and make two laps before exiting the same way.
!!!NEW THIS YEAR!!! PRE-REGISTRATION IS REQUIRED!! There will NOT be day-of registration. All jeeps must be pre-registered to participate in parade.
Saturday, Feb. 19, 2022 @ 3PM
Registration limited to the first 30 Sign-Ups.