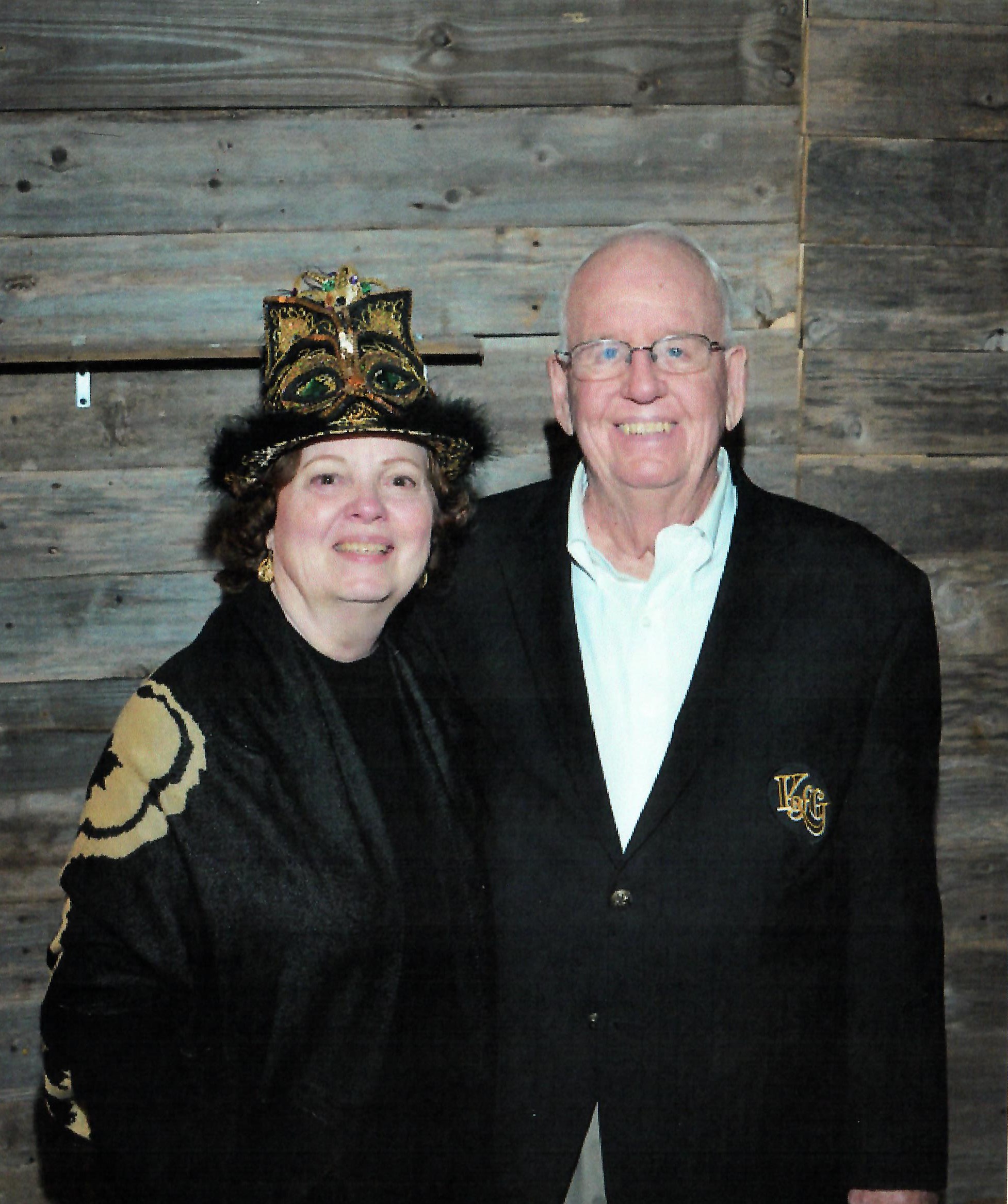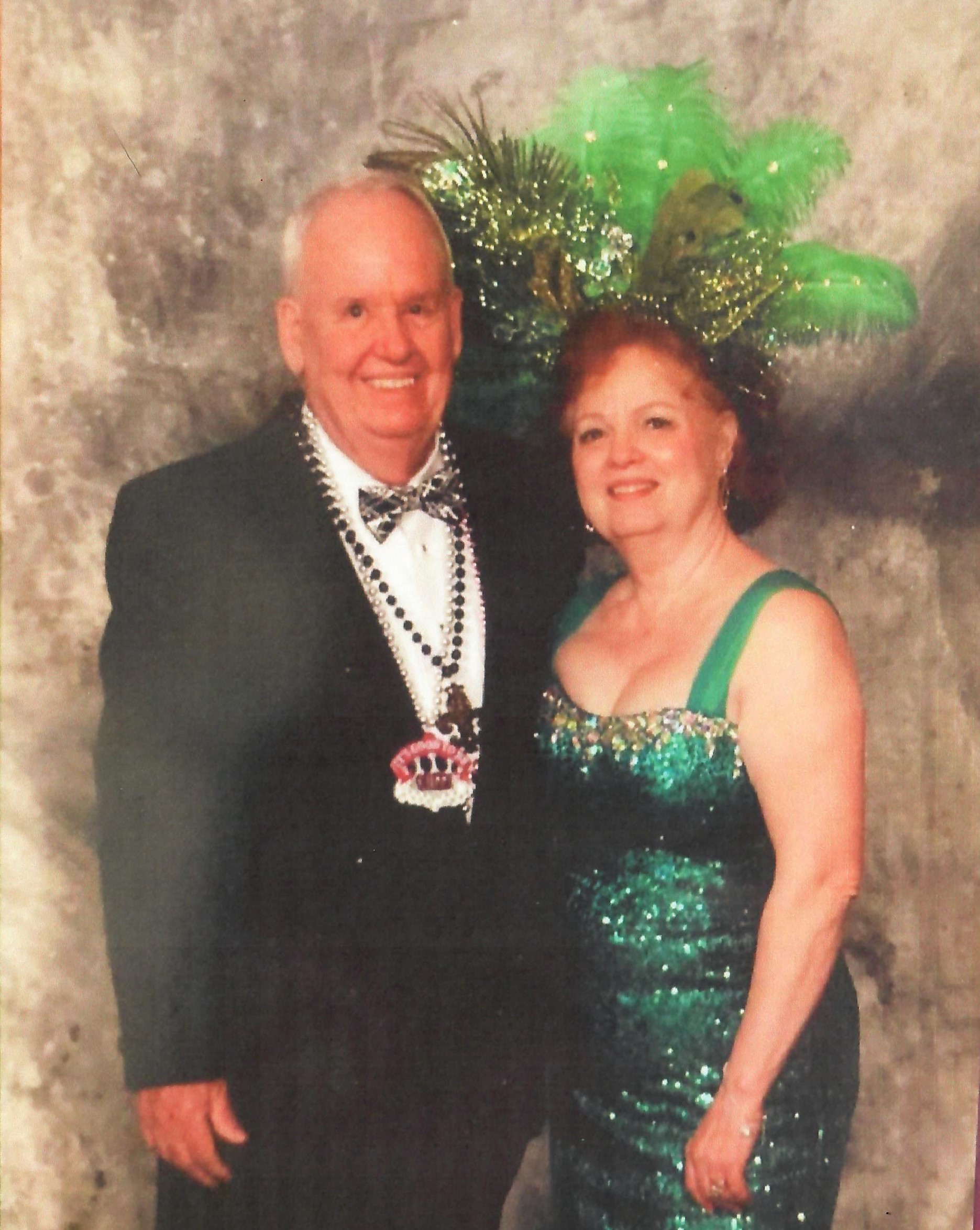 11th Annual George P. Mitchell Mardi Gras Award Recipient Announced
Richard and Carol Ivey
GALVESTON ISLAND, TX (November 10, 2021) – Richard and Carol Ivey have been members of the Krewe of Gambrinus (originally known as Krewe of Brewe) for most of its existence.  Both have worked tirelessly on many committees, but have been an integral part of the Social Committee for approximately 3 decades.  Their quiet demeanor of serving others behind the scenes is a quality people appreciate from loyal members of any organization. Carol and Richard are the epitome of this type of loyal member.  Richard has also been an important part of the Board of Directors from our early days and still serves.  He has been asked this year to be a member of the Board Resource Committee, which serves as the Nominations Committee for the Krewe's Board positions.
The Krewe of Gambrinus has benefited tremendously because of Carol and Richard's continuous and loyal support whenever they were involved.  Carol and Richard have both served with pride and grace as Her Royal Highness the Queen (in 2016) and King Gambrinus XXXI (in 2020).  They are one of the 10 couples in the history of the Krewe that have both served as our King and Queen. Both have donated their time and vision for years.  Mardi Gras is truly one of a kind event and they look forward to continue to be a part of the future. 
The Krewe of Gambrinus is very proud that Carol and Richard Ivey are being honored with the George Mitchell Mardi Gras Award.
Mardi Gras! Galveston festivities will take place from February 18 – March 1, 2022.  Full parade schedule and entertainment line-up announcements will be made on www.mardigrasgalveston.com
About Mardi Gras! Galveston
Mardi Gras, the traditional festival of feasting and merrymaking that precedes the season of Lent, was first publicly observed on Galveston Island in 1867. Following a sabbatical imposed in 1941 by war and challenging times, Mardi Gras! Galveston was revived in 1985 by Galveston-born preservationist and developer George P. Mitchell. The largest celebration of its kind in Texas and the third-largest in the nation, Mardi Gras! Galveston brings the island's streets to life with parade viewers shouting for beads, lively tunes played by the colorful marching bands, and the infectious merriment that dominates the island for two full weeks. For more information on Mardi Gras! Galveston visit www.mardigrasgalveston.com.
About Galveston Island
Galveston Island is a historic beach town located on the Gulf of Mexico just 50 miles from Houston. The island is best known as a vacation destination, offering 32 miles of beaches, a variety of family attractions, Texas' premier cruise port and one of the largest and well-preserved concentrations of Victorian architecture in the country, including several National Historic Landmarks. Galveston Island is home to popular amusements such as Moody Gardens and Schlitterbahn Galveston Island Waterpark, as well as a variety of museums and recreational activities from surfing to birding.