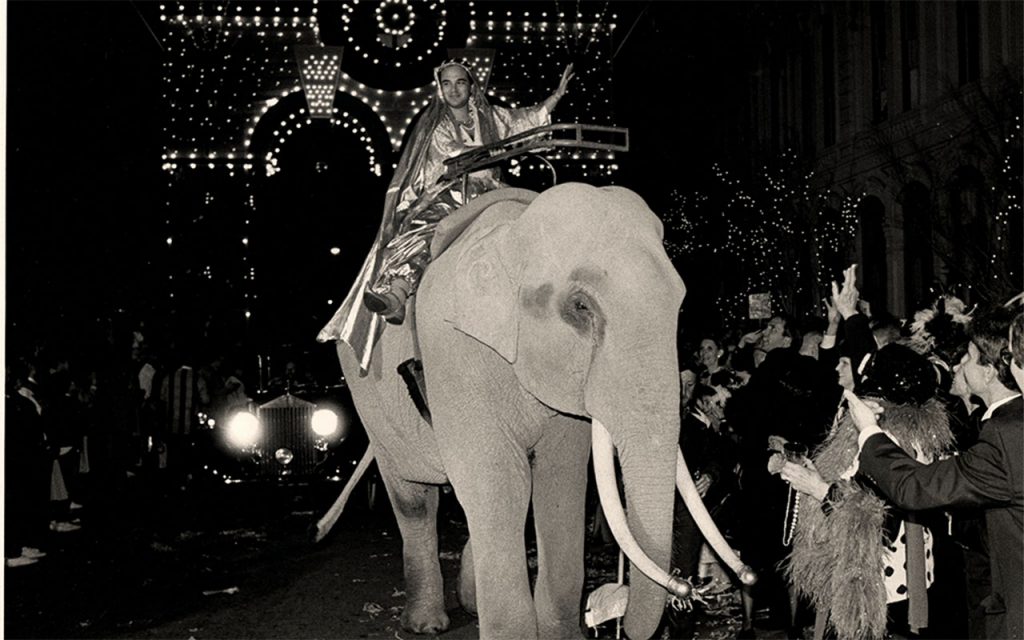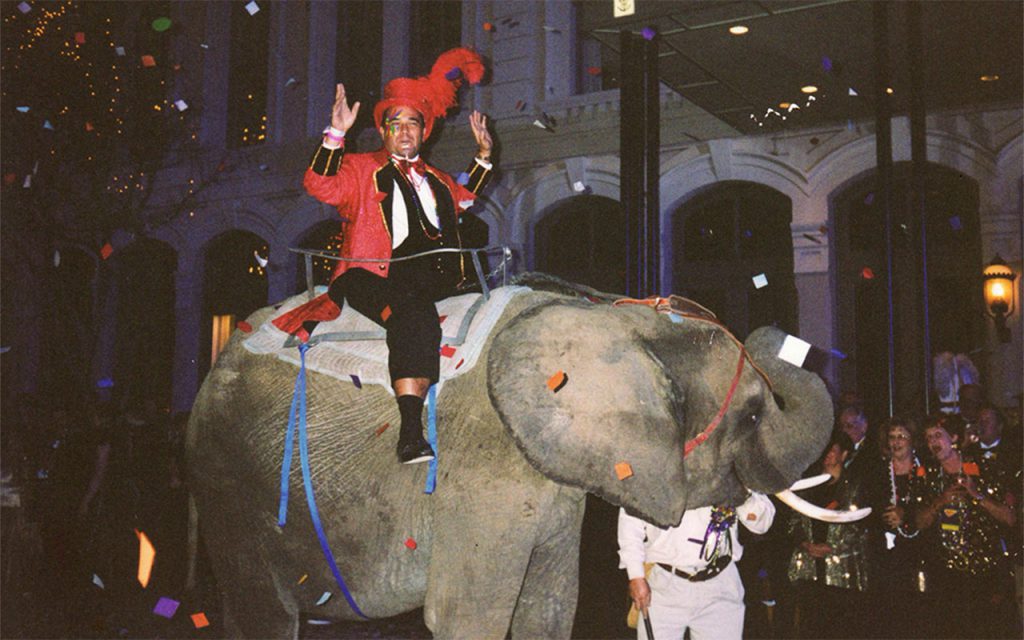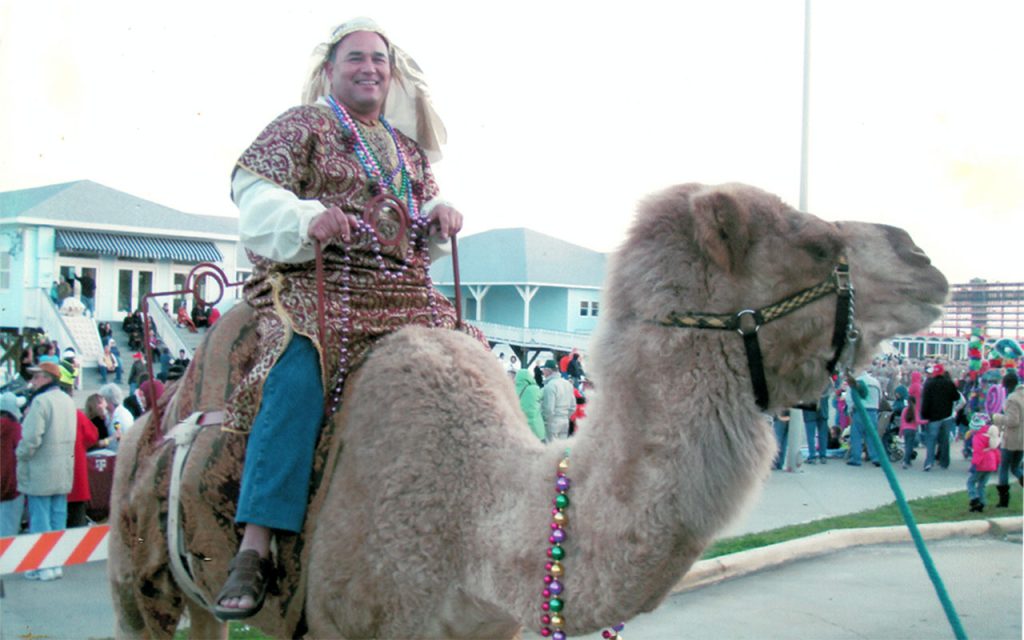 10th Annual George P. Mitchell Mardi Gras Award Recipient Announced
Vincent J. Tramonte
GALVESTON ISLAND, TX (November 22, 2019) – The City of Galveston declared February 25, 2011, as George P. Mitchell Day and the Mardi Gras! Galveston festivities kicked off with a parade in his honor, the Salute to George P. Mitchell Parade. Mitchell, a philanthropist, developer, founder of Mitchell Historic Properties, and visionary behind the revival of Mardi Gras! Galveston was the inspiration for the Annual George P. Mitchell Mardi Gras Award. This award was established to honor Mitchell and other individuals, corporations, foundations, and groups vital to Mardi Gras' rebirth and preservation. Each year the recipients are honored with a ceremony in front of The Tremont House, and names are added to a plaque that hangs in the lobby of The Tremont House,  followed by the Salute to George P. Mitchell Parade honoring him and the award recipients begin marking the start of Mardi Gras! Galveston festivities.
The 2020 George P. Mitchell Mardi Gras Award will be presented to Vincent J. Tramonte.
Vincent J. (V.J.) Tramonte has been actively involved with Mardi Gras! Galveston for 36 years. In 1984, Tramonte was among the first to offer his efforts in reviving the celebration as a founding member of the Knights of Momus Mardi Gras Krewe and the Grand Night Parade. He and a good friend, Raymond Brouillard, marched with the first Knights of Momus banner that introduced Pete Fountain as the first parade Marshall. George Mitchell, a longtime family friend of Joe Tramonte, V.J.'s father, was aware of V.J.'s involvement with Treasure Ball and other Mardi Gras activities through Dancie P. Ware. Tramonte worked closely with Dancie Ware, Kenneth R. Shelton, Jr., E. Douglas McLeod, and other founding members of the Knights of Momus in those formative years.
Tramonte is a founding member of the Knights of Momus (K.O.M.) Mardi Gras Krewe, and has served on the Executive Board since the inception of K.O.M. in 1984, and served as President in 1992-1993, honored as King of K.O.M. in 2006. The Knights of Momus is the grandest and oldest Krewe supporting the social and civic efforts of Galveston's historic Mardi Gras.
"My favorite memory of Mardi Gras! Galveston was being crowned the King of Momus in 2006", said Tramonte. "Also riding a pink elephant in the second year of the parade (1986), and then a baby elephant when we had a Circus theme (1999), and then a camel when we had an Arabian Knights theme (2011)."
Tramonte was born and raised in Galveston, Texas, on March 6, 1953, where he attended St. Patrick Elementary School and graduated from O'Connell High school in 1971. Tramonte is a proud alumnus of O'Connell High school, where he was King of O'Connell High School's Treasure Ball in 1970 and has served as a Past President of O'Connell School Board & O'Connell Booster Club. Tramonte attended St. Edwards University, Austin, TX, and graduated with a B.A. degree in 1975. He then went on to receive his Doctoral of Jurisprudence at the University of Houston Law School in 1978. After practicing law for two and a half years in Galveston, Tramonte obtained his Broker's License in 1982 and joined his father's real estate company, Joe Tramonte Realty, eventually becoming an owner in 2002.
Tramonte's contributions to Galveston reaches much further than Mardi Gras! Galveston. He has actively volunteered and served on various boards of committees in Galveston, supporting the Island community. In 2002, Tramonte was the recipient of the Paws Gala Humanitarian of the Year award, and he is active at St. Patrick & Sacred Heart Churches and the recipient of the Galveston Association of Realtors Joe Schlankey Service Award 2015.
Tramonte has served as past President (1995-1996) of the Rotary Club of Galveston, of which he is a Paul Harris Fellow and inductee of Rotary District 5910 Roll of Fame in 2003, and former chairman of the Galveston Rotary Club foundation.
Tramonte distinguished himself in his service to the community. He served as a Past Chairman of the City of Galveston Zoning Board of Adjustments and past chairman of the City of Galveston Planning Commission. Past Chairman (2011) and current Board member of the Galveston Chamber of Commerce. Current chair member of the Galveston Economic Development Partnership (2019-2020). Tramonte was also a past chairman of the University of Texas Medical Branch (UTMB) President's Cabinet 2008, serves as a current board member of the Membership Committee, Awards committee of UTMB's President's Cabinet, and a current member of UTMB Development Board (2014-2020).
Vincent J. Tramonte will be presented with the George P. Mitchell Mardi Gras Award at a ceremony held in front of the Tremont House on Friday, February 14, at 5:30 p.m.  The Salute to George P. Mitchell Parade honoring Vincent J. Tramonte will begin at 7:00 p.m. from The Tremont House and will travel through the Historic Strand District.  This parade will launch the carnival season.
Mardi Gras! Galveston festivities will take place on February 14 – 25, 2020.  Full parade schedule and entertainment line-up announcements will be made on www.mardigrasgalveston.com
About Mardi Gras! Galveston
Mardi Gras, the traditional festival of feasting and merrymaking that precedes the season of Lent, was first publicly observed on Galveston Island in 1867. Following a sabbatical imposed in 1941 by war and challenging times, Mardi Gras! Galveston was revived in 1985 by Galveston-born preservationist and developer George P. Mitchell. The largest celebration of its kind in Texas and the third-largest in the nation, Mardi Gras! Galveston brings the island's streets to life with parade viewers shouting for beads, lively tunes played by the colorful marching bands, and the infectious merriment that dominates the island for two full weeks. For more information on Mardi Gras! Galveston visit www.mardigrasgalveston.com.
About Galveston Island
Galveston Island is a historic beach town located on the Gulf of Mexico just 50 miles from Houston. The island is best known as a vacation destination, offering 32 miles of beaches, a variety of family attractions, Texas' premier cruise port and one of the largest and well-preserved concentrations of Victorian architecture in the country, including several National Historic Landmarks. Galveston Island is home to popular amusements such as Moody Gardens and Schlitterbahn Galveston Island Waterpark, as well as a variety of museums and recreational activities from surfing to birding. For more information on Galveston Island, visit www.galveston.com or call 1-888-GAL-ISLE.
###