Umbrella Brigade Registration
13th Annual Funky Uptown Umbrella Brigade

February 2, 2024 @ 8:30PM
Welcome, we are pleased you will be joining us for our 13th annual celebrated event! Register your group by filling out and submitting the form below.
PLEASE NOTE: THOSE WHO REGISTER THE DAY BEFORE OR DAY-OF THE PARADE MAY NOT RECEIVE A JUDGING NUMBER OR AN INFORMATION EMAIL DUE TO TIME CONSTRAINTS.
PLEASE "CLICK FOR PARADE DETAILS" TO VIEW ALL THE INFORMATION NEEDED FOR  PARADE PARTICIPATION.
For more information contact info@yagasevents.com or 409-770-0999.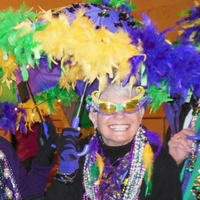 Dedicated to Mary Pregler
PLEASE READ CAREFULLY! 
Parade Entrance: On Friday, February 2, 2024 from 5pm-8:30pm, participants may enter through ANY gate in the Entertainment District for free with a DECORATED umbrella. Please note: free entrance with a decorated umbrella will not be granted after 8:30pm.
Pre-Party: On the corner of 21st & Mechanic, you're welcome to enjoy the Umbrella Brigade Pre-Party! There will be music playing at the Salute to Texas Stage and a bar nearby. Take pictures and tag @mardigrasgalveston while there. The pre-party will be from 6:30pm-8:30pm.
Parade Route: Please see the map below for the route. The parade will begin at 8:30pm. It will take approximately 45-60 minutes for the parade to finish. Once completed, you are free to enjoy the rest of your evening!
Route: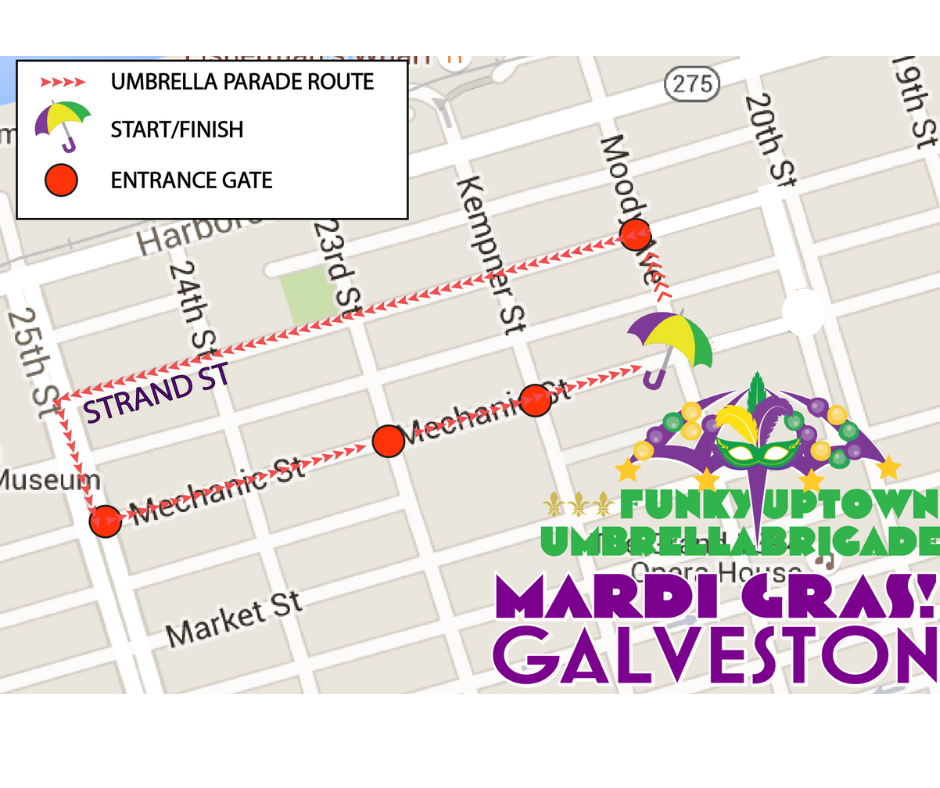 (Optional) Parade Competition: Those of you who check yes to "Would you like to participate in the Umbrella/Costume Judging during the parade?" upon registration, received an email from info@yagasevents.com with your judging number. Please check your spam. Judges will recognize groups by their assigned number. You will need to have at least ONE umbrella display your assigned judging number on top of the umbrella. Numbers must be at least 8.5in. x 11in., the size of a piece of letter paper. NUMBERS MUST BE LARGE AND VISIBLE. You will no longer be required to check in to redeem a number on a stick to carry throughout the brigade.
We ask that all participants finish the parade route and join us for the Hokey Pokey under the Mardi Gras Arch located at 24th & Mechanic!
Judging: A select group of judges will be located on the balcony at 23rd & Strand. Judges will be overseeing the participants and decide the winning group.
Winners of Competition: The winning Umbrella group will be awarded tickets to a balcony party for the rest of Friday, February 2. The party is open until 1am.
*must be 21+ to enter balcony party*
Registration coming in fall of 2023!
Enter your e-mail to be the first to know when registration opens.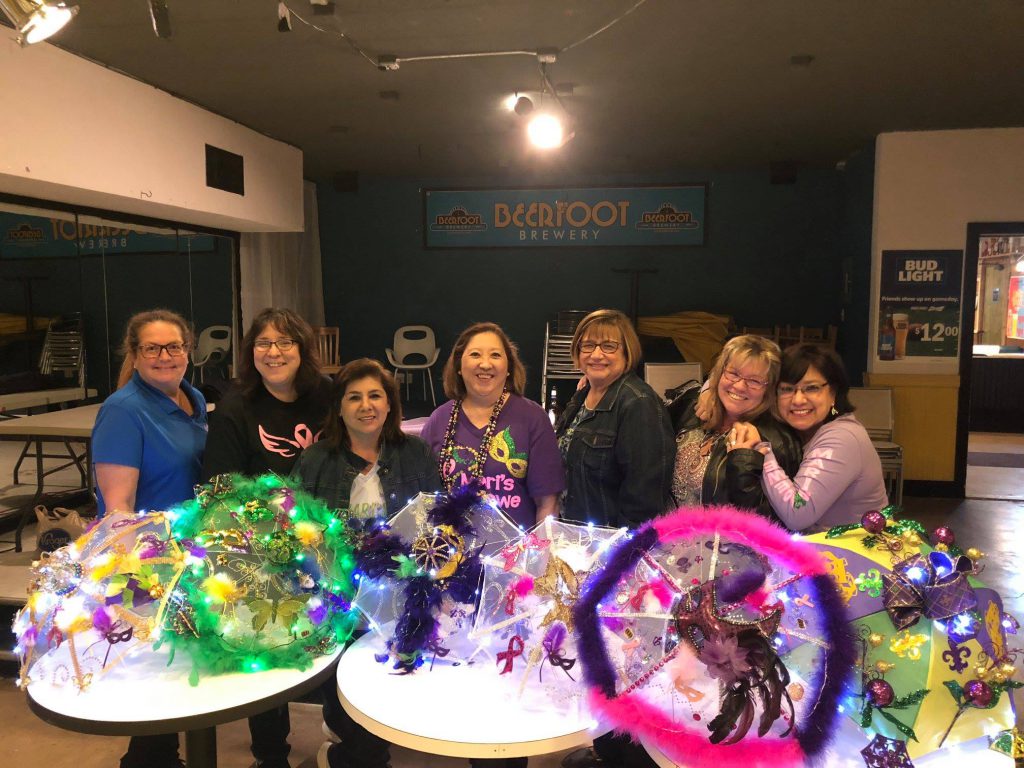 Enter the Mardi Gras! Galveston 2024 13th Annual Official Umbrella Decorating Contest.
The winning umbrella will lead the Funky Uptown Umbrella Brigade Processional Friday, February 2, 2024.