Umbrella Brigade Registration
12th Annual Funky Uptown Umbrella Brigade

February 10, 2023 @ 8:30PM
Welcome, we are pleased you will be joining us for our 12th annual celebrated event! Register your group by filling out and submitting the form below.
For more information contact Sofia at sfaus@yagasevents.com or 409-770-0999.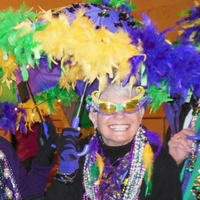 Dedicated to Mary Pregler
PLEASE READ CAREFULLY! 
On February 10, 2023 at 6:30pm, please meet the parade coordinator at the corner of 21st and Mechanic for check-in and a pre-party at the Salute to Texas Stage. The parade should take no longer than approximately 45 minutes to 1 hour of marching time. 
Parade Date: Friday, February 10th, 2022 
Parade Time: Parade Lineup will begin at 6:30pm. The Parade will begin at 8:30pm 
Parade Arrival: Every participant may enter through any of the official Mardi Gras! Galveston gates.
Parade Participants: All costumed participants with a decorated umbrella will receive FREE entry into the Entertainment District through ANY of the designated gates. YOU MUST HAVE A DECORATED UMBRELLA TO ENTER THE DISTRICT THROUGH THE GATES FOR FREE. 
Parade Competition: This portion of the parade is optional. Umbrella groups will have the opportunity to show off their groups' costumes and creativity while being judged as they march through the streets. Judges will recognize groups by number so participants must stay with their captain during the parade. 
Line Up Number: Each group will receive a number sign for the spirit contest judging. The Lineup numbers do not need to be in chronological order for the parade. 
Parade Group Leader: Assign one person from your team to be the designated person to hold the Team Number sign at the front the group during the parade. This select person must hold the number sign and their umbrella simultaneously. 
Winners of Competition: The winning Umbrella group will be awarded 30 tickets to attend the Umbrella Brigade Balcony party on Friday, February 10, 2023. The party is open until 1am. At the conclusion of the parade, the winning group will be escorted to the balcony party. 
Judging: A select group of judges will be located on the balcony at 23rd and Strand. Judges will be stationed at the final stretch of the Umbrella Parade overseeing the dance routine performed by all parade participants. 
Route: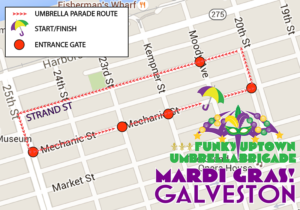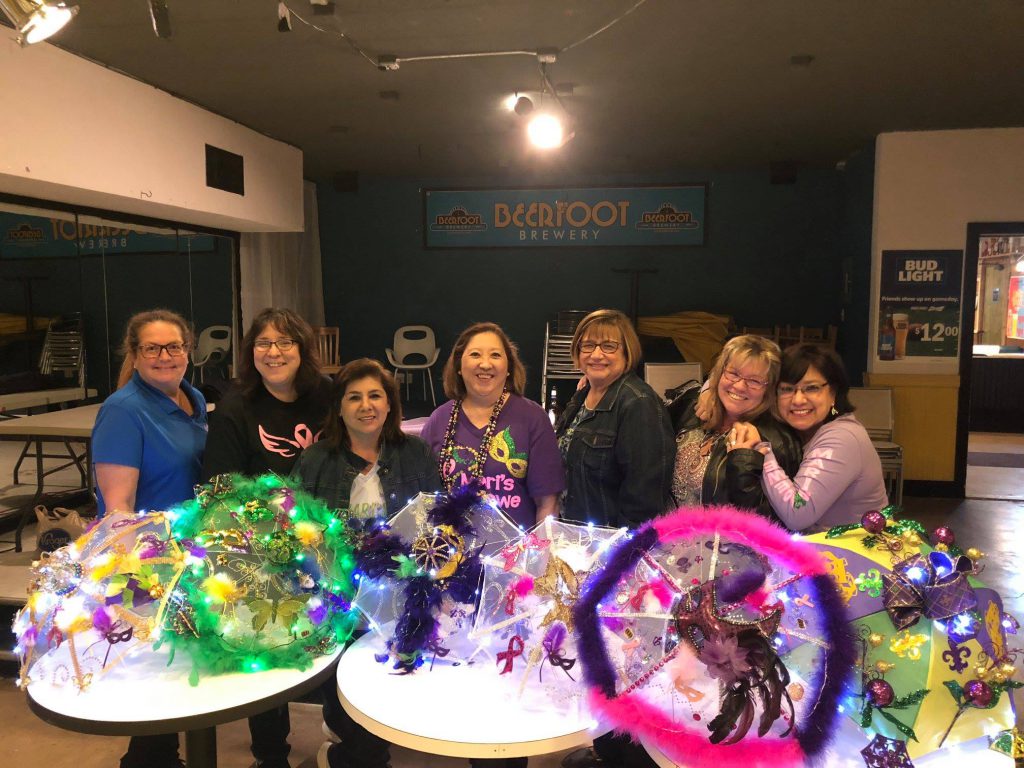 Enter the Mardi Gras! Galveston 2023 12th Annual Official Umbrella Decorating Contest.
The winning umbrella will lead the Funky Uptown Umbrella Brigade Processional Friday, February 10, 2023!